When all is quiet in the County and the roaring fire's crackle competes with only the sound of Lake Ontario washing over our shores we can't help but want to curl up with a good book so we asked author Kyo Maclear for her personal booklist. With Canada 150, we've been on a real Canadian kick. Recognizing her as a frequent face on West Queen West and a neighbour to The Drake Hotel, we were taken with her newest book, Birds Art Life. As the weather gets colder, like birds, the subjects in her book, we feel like retreating to a place much cozier and warm. While we can't reach the southern borders and then be back by Monday for work in the city but Prince Edward County isn't a bad alternative.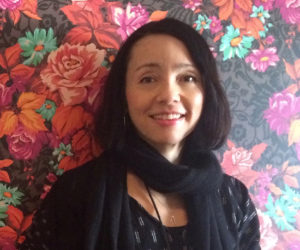 We recognize that wallpaper in your photo! What is your own special tie to Drake Devonshire and Prince Edward County?
My book is set within the boundaries of Toronto. I wanted to explore the idea of city nature (i.e. wildness in non-pristine places) so I didn't research beyond. The photo you saw was taken during a (now annual) family trip to the county and Devonshire. We were lucky last December to see nearly a thousand geese huddled at Wellington Harbor. It's mind blowing to see birds in volume.
How does living in Canada influence your writing?
I am inspired by the play and friction of multicultures in Canada. I love the tradition of small/independent presses, cultural grants, and artist-run organizations that have helped grow new voices (including my own.) Lately I'm inspired by urban rewilders, citizen scientists, and local foragers.
Is there a book (Canadian or not) that made you realize you wanted to be a writer?
Shel Silverstein and Dennis Lee made me love language. Maybe that's where this all started.
Tell us about your booklist and how you put it together.
As a child born of immigrant, polyglot and multiracial parents, I have a queasy relationship to the idea of a national literature. I remain equivocal about the term CanLit. I could never be a zealot for any flag. I am terrible with pomp and ceremony. I remain sure that all nationalisms have an imaginative void. The books that sing to me and my mongrel heart are rascally and un-anthemic. I prefer polyphony in form and content. I opt for the messy choral over the pristine solo.
My reading list includes writers and books that divine new dreams and dimensions of home and community. These are texts that reject the bombast and exclusions of nation, refuse unthinking allegiance, model survival and resistance, tenderize language, and poke fun at settler myths. They are beautiful, unforgettable, and—I think and hope—deeply pleasurable to read.
Kyo's reading list (defiant birthday guests all):
Dionne Brand,
A Map to a Door of No Return
; and her forthcoming poetry project,
The Blue Clerk
.
Hiromi Goto,
A Chorus of Mushrooms
; and her graphic novel
Shadow Life
.
Julie Flett,
Wild Berries and When We Were Alone
with David Alexander Robertson.
Naomi Klein,
This Changes Everything
; and
No Is Not Enough: Resisting Trump's Shock Politics and Winning the World We Need
.
Leanne Betasamosake Simpson,
Islands of Decolonial Love
; and her newly published
This Accident of Being Lost: Songs and Stories
.
p.s. John Berger's 1972 novel
G
was a courtship book for my husband and me. We read it in tandem when we lived for a time in different countries. It contains a line that has stayed with me, not least because it was used as an epigraph for Michael Ondaatje's
In The Skin of a Lion
AND for Arundhati Roy's
The God of Small Things
: "Never again will a single story be told as though it's the only one" —what a great quote!—I hope my list conveys some of this spirit.