The powerhouse Canadian indie pop-rock group, comprised of Jared Salte, Bethany Salte, Robbie Szabo and Jeremy Dehek released their EP Lost in Your Head this year - which is their first full-length record with a full piece band. At the roots of The Royal Foundry are the two lovebirds Jared and Bethany who joined forces in life and in music. They released their first track "All We Have" as a folk-pop acoustic duo and then quickly transformed their sound and doubled their band members.

The creation of Lost in Your Head was a coming of age for the band, they came into their own musical identity and came out with a colorful explosive album. Filled with anthem driven lyrics, infectious synthesized beats and catchy riffs, we talked to founding members Jared and Beth on the inspirations and stories behind their new EP.

You describe your new EP "Lost In Your Head" as a 'fusion' between your old folk acoustic sound and new synth electro-pop tunes. How would you say this transition came about?
Beth: One of the first songs from our folk/americana album that we wrote was 'All We Have'. It was one of the only songs that didn't really fit into the folk album, as it was 'too pop'. After we released the album, it was that song that garnered a lot of attention and, at the same time, helped transition our desire to explore different musical genres. Jared, having a background in music producing, dealt with a lot of bands in different music genres, so for him, exploring different synth sounds, and fusing acoustic elements with pop/alt tones, seemed natural.


Who would you say are your biggest musical influences right now and why?
Jared: Our constant musical influences remain to be The Beatles, Bruce Springsteen, YES, The Killers, Coldplay and Arcade Fire, among otherrs. Each of these bands speak to us in different ways, The Beatles for their unabashed creativity that exceeds expectation (even to this day), Bruce Springsteen for his incredible musicianship and live show. YES for their intensely interesting compositions. The Killers and Coldplay for creating catchy melodies and Arcade Fire for creating a world that celebrates music and politics while striking a chord in realism that we can all relate to.


We've read that the band loves photography and visuals. How are they weaved into your music live show?
Beth: Just like in movies/TV, how music can make a specific scene all the more intense, I think adding visual to a band can also drive that point or moment or emotion all the more. Going to see a live band is an experience, both visually and audibly.

Cue: awesome album artwork for Lost in Your Head.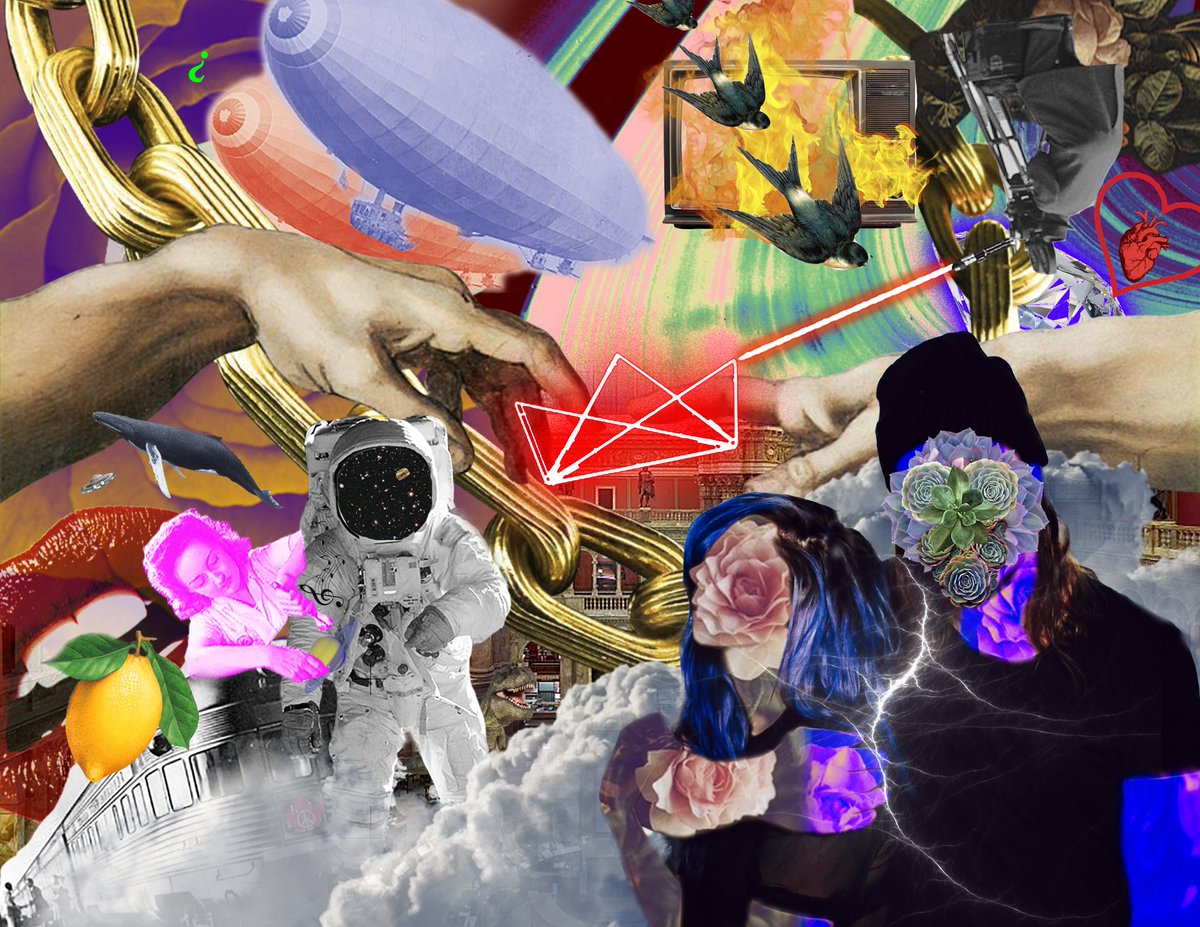 If you had an unlimited budget to put on a concert for your fans, what would be your dream city and ultimate stage setup be?
Jared:
I think it would be sweet to play at a venue where you need to take an indoor rollercoaster to get to the place (think space mountain). The intro to the concert would be during the ride and once you got into the venue, the entire place would feel like stepping into a secret dark unknown space, and there would be cool interactive elements. Lots of screens and laser lights and it would be really spacey! That would be the ultimate!
What is your favorite song to play live and why?
Beth: We love to get crazy on our more pop-y songs. "All We Have", "Rollin' Out the Window" and "We Keep on Dancing". Those ones are fun!


Of all the songs on Lost in Your Head which song do you think represents the band's current sound and direction?

Jared: "Just Say You Want It" mostly because its got both the pop/alt sound along with some sweet electronic elements that weave itself throughout our album!


Jared, how has your background of being a producer, shaped the way you made this album?
Jared: Being able to work with so many different musical genres helped create a space of experimentation with fusing different genres together. My high school band, Junkyard Poets, was as experimental as it gets, and then switching to a folk album was the sort of opportunity to explore more subdued musicalities. Now with this album, I feel for the first time I've found my 'groove' in musical styles.


What is your earliest memory of what sparked your love for music and passion to perform and write lyrics?
Jared: My dad was a touring musician and so I was constantly surrounded by music and musicians. He toured a lot during the summer, and so our entire family would travel with him. Not only did my dad make music, but he also was diverse with his musical genres, starting with a rock album, than a country album, and a few children's albums too. So, music was really in my blood. Beth came in completely fresh, with her first live performance using wedges, and with it being broadcasted nationally. She really was thrown into the deep end of things after we got married, but took on everything very naturally - almost like she was made for it.


What was it like co-producing this album with Sam Hanson?
Jared: It was very nerve-racking, as this was the first time ever that I co-produced our own music. At first listen, I definitely had that moment of 'Ah! What did you do!?' but it turned out to be such a great experience, and it helps that Sam is just a great human too!


How did you come up with the concept of the "All We Have" music video, and what was that filming process like?
Beth: The music video and concept was totally chance. We didn't really have any ideas as to how it would turn out or what to do. We had a few locations picked out, but everything from meeting the right people, to having the perfect weather, was a complete fluke. It was just insane to be in the middle of nowhere, Illinois, meeting complete strangers who happen to own a 1950's diner frozen in time, that also has a giant pink elephant in the yard, who then say they have two pet monkeys!?!?!?! And who then, invites us to shoot some video with them? I mean first, is that legal, to own monkeys? And then have one of the oldest Drive-In theatres completely accommodate us and let us invade their space?! It was so much fun, and we had the best team in the world - SongFreedom and Switzerfilm! It was just so much fun!

See The Royal Foundry perform live in the Drake Underground with Living Hour on Friday OCT 27 @ 8PM. Get your tickets here.


Watch the music video for "All We Have" below.